FemTech - the Tech for the XX Chromosome:
Asia's High-Tech Pursuit of Women's Wellness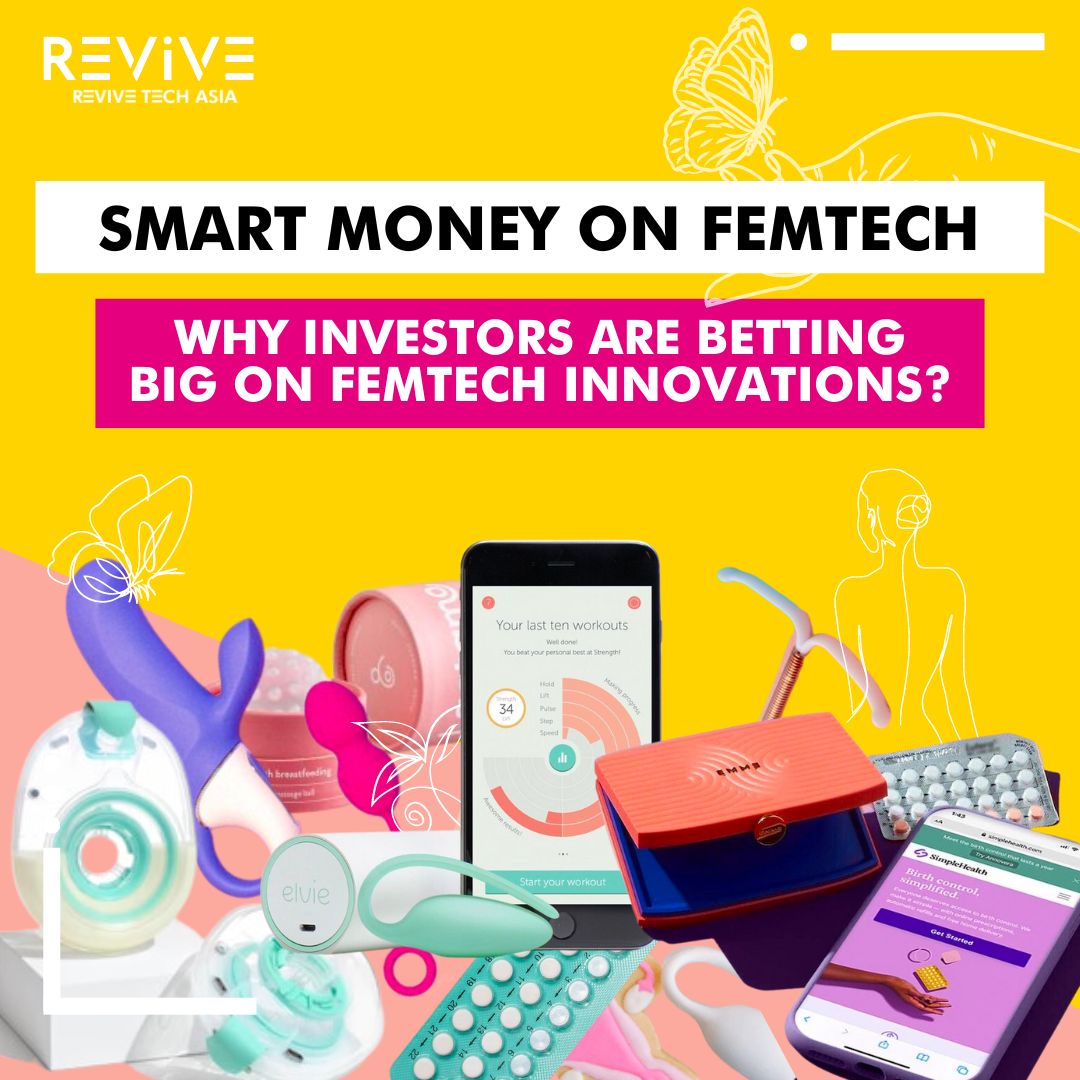 Why are we talking about FemTech at all?
The FemTech market, which was valued at US$37.39 billion in 2022, is expected to grow at a Compound Annual Growth Rate (CAGR) of 15%, reaching US$68.9 billion by 2027. This burgeoning industry has captured the attention of global investors, R&D resources, and corporations alike. With Asia Pacific predicted to experience the highest growth in women's health-related applications, it is crucial to examine the significance of FemTech and its potential impact in the region.
But first, what is FemTech?
FemTech, or Female Technology, encompasses a broad range of technology products and services designed to specifically address women's health and wellness needs. It aims to empower women by leveraging technology to improve various aspects of their lives. The term was first proposed in 2016 by Ida Tin, co-founder of Clue, a menstruation-tracking app. FemTech is more than just menopausal products; it fills gaps left by the biopharma and device industries, often presenting itself in the form of mobile applications or wearable devices.
So what is next in Asia?
With Asia expected to be a hotbed for FemTech growth, the sector has already expanded to over 70 companies in Southeast Asia, a 70% increase compared to 2021. However, Hong Kong lags behind with only four FemTech companies.
In Hong Kong, Women X offers non-invasive monthly collection of menstruation blood for diagnosing, analysing, and improving women's reproductive health issues. Biorhythm develops a tech-embedded bra that analyses body temperature rhythms to serve as a "biomarker" for early breast cancer detection.
Meanwhile in other parts of Asia, EloCare focuses on developing smart healthcare devices for optimised ageing care for midlife women. Biorithm creates monitoring devices to measure real-time data for mother and baby, promoting maternal health.
Outside of Asia, FemTech companies are also making waves, if not bigger. Kheiron offers an AI-enabled solution for early detection of breast and other cancers, while inne provides a hormone-based mini-lab for fertility and ovulation tracking, simply by gathering saliva at home. Bellabeat manufactures smart jewellery for women's wellness tracking, and Lioness develops a sexual health tracker.
Inne - Track your cycle with lab-grade accuracy
What are investors thinking?
Despite the FemTech market's potential, there are challenges to overcome, including:
VC preference: Venture capital firms are predominantly male-dominated, which may result in a lack of understanding or appreciation for the value of startups founded by women, particularly those targeting female consumers.
Perceived "lack of scalability": FemTech can only be used by half of the population even when it captures the market size fully. This limitation, along with the digital gender gap, may discourage investment in the sector. In Southeast Asia, there are 58% fewer women than men who have access to mobile internet services, and 28% fewer women than men own mobile phones, reinforcing the idea of lack of scalability.
Female purchasing power: Women in Asia may lack the financial means or willingness to pay for subscriptions, a popular revenue model for tech and startups.
Expensive R&D costs for hardcore FemTech: Developing innovative solutions often requires significant investments, which may be prohibitive for some startups.
However, change is on the horizon (finally). The cost of developing artificial intelligence related solutions are expected to decline significantly, revolutionising the FemTech landscape. In the meantime, the rise of female wealth in Asia is also expected to increase the demand and willingness to pay for such products and services. Women in Asia (excluding Japan) are projected to hold $27 trillion in wealth by 2026, surpassing Western Europe and only second to North America.
Furthermore, investor mindsets are shifting, prioritising FemTech within their impact investing portfolio, with funds like Gobi and Ozora Yatrapaktaja joint-launching a $10 million fund for women-led startups in Indonesia. Female founders are also raising more funds, with women-powered businesses attracting US$41 million per round of funding in 2021, a fourfold increase from US$10 million per round in 2017.
Conclusion
The FemTech industry's growth is poised to reshape women's healthcare and wellness landscape in Asia and beyond. As investor mindsets shift and more resources are devoted to this sector, 2023 is perceived to be the year for FemTech in Asia. By embracing and supporting this growing market, we can empower every single woman, like our dearest mothers, and improve their quality of life through innovative technology.